Who are the tollers in the Texas primary?
Written by Terri Hall
Tuesday, 08 May 2012
What a time to be a Texan! This year we have MANY hotly contested primary races and an opportunity to THROW THE BUMS OUT like never before. It's time to hold our politicians ACCOUNTABLE for their REFUSAL to listen to us about nixing these DOUBLE TAX toll roads!

There's a wave of FRESH, GRASSROOTS candidates that have filed to challenge the incumbent status quo politicians that have run Texas fiscally aground. Texans are now over $35 billion in debt for roads. According to federal stats, Texas is #1 in the nation in road debt! Most of it has been to subsidize toll roads with tax dollars while charging us AGAIN to use the road -- a DOUBLE TAX! The debt is unsustainable and irresponsible. There are not enough Texans who can afford to pay this extra tax on driving just to get to work. We need to reverse course & FAST!



Here's just a few of the key races involving tollers:





TEXAS SENATE DIST. 25


Toss PRO-TOLL

JEFF WENTWORTH




DONNA CAMPBELL

is the ONLY ANTI-TOLL candidate in the race!

Jeff Wentworth has voted for every toll road bill that ever came across his desk in the Senate, ditto at the MPO.

Another candidate in the SD 25 race is Elizabeth Ames-Jones. Both

Jeff Wentworth

and

Elizabeth Ames-Jones

have voted to toll our roads. Wentworth, more times than I can count, but here are the major ones: HB 3588 (2003), HB 2702 (2005), SB 792 (2007), SB 942 (2009), SB 1420 (2011) & HB 563 (2011).

Ames-Jones voted to toll 281, 1604, I-35 and most of San Antonio's local roads in July 2004 when she was a State Rep. and sat on the MPO.

Wentworth and Ames Jones had the unmitigated gall to lie to a San Antonio Republican Club and say they were against the toll toads, when the two of them are the REASON we're still facing toll roads all over San Antonio (57 toll projects are in the current MPO plan!).

Wentworth's law firm represented Zachry when Spain-based Cintra and partner, locally owned Zachry, slapped that unsolicited bid on TxDOT's desk to takeover and toll 281& 1604 in 2005, and Wentworth blocked that contract from being subjected to the moratorium on those foreign-owned toll roads back in 2007.
Read more...
Dallas Mayor caves to pro-toll interests on Trinity Toll Road
Written by Terri Hall
Tuesday, 08 May 2012
Link to article here.

By MICHAEL A. LINDENBERGER
Transportation Writer
Dallas Morning News
02 May 2012 11:38 PM

Now that Dallas Mayor Mike Rawlings

has lined up with his predecessors to support the Trinity River toll road, one minor mystery associated with the project has been answered. But there are still plenty of unanswered questions and unresolved hurdles.

How soon can the project begin? The Federal Highway Administration could issue a decision on the road — whether and where it can be built — by January. That would put the issue squarely in the U.S. Army Corps of Engineers' lap, which must then approve two separate permits. That could take much of next year. Construction, under the best of circumstances, won't begin before 2016, with the road open by 2019.

What about the money? The tolls on the road aren't expected to produce anywhere near the amount of money needed to pay back debt needed to pay for the road, which will cost $1.8 billion (in 2016 dollars). Rawlings said that doesn't bother him, in part because he's confident that once the case is made for the road in Austin and elsewhere, and the regulatory hurdles are overcome, the money will be found.

Is it important to identify the funding soon? If all goes well, the federal highway agency could be ready to issue its final approval in January. But it won't do so unless the city produces a plan that shows how the project will be funded. Here's how the spokesman for the highway agency in Washington put it Wednesday: "In its financial plan, the project must demonstrate that funding is reasonably available for the completion of the project — which doesn't necessarily mean the funding needs to be in hand at the ROD [record of decision] signing."

So there is wiggle room. But the government means it when it says the funds have to be real. Assistant City Manager Jill Jordan conceded Wednesday that the city is nowhere close to having the funding reasonably certain.

Does the city have much time? Not if it doesn't want to delay the project. Jordan stressed that final federal highway agency approval will be delayed anyway until the corps makes its decisions about the road and the other components of the project that are within the floodway. But the highway agency said that's simply not the case.

Spokesman Doug Hecox said the agency does not expect to wait on the corps. "FHWA is on track to have its record of decision before the Army Corps of Engineers finishes its [evaluation]," he said.

Does Rawlings' support for the road mean more waiting for the rest of the project? He said he has demanded the opposite, namely that the city have on his desk a plan for fast-tracking lakes and some other elements by June. Construction, he said, could be finished by 2015.

However, for as long as the city is relying on the road construction to provide the means to dig out the lakes, work on the lakes won't begin until after approval for the road is issued. And that won't come until after the money for the road is found.

In that sense, Rawlings' support for the road keeps the lakes tied to the prospects of the toll road.

Will Rawlings' support push the project over the hump? It's tremendously important. His support by no means makes the approvals any easier and isn't required in any fashion by the federal government. But had he opposed the road, or continued to keep his peace about it, his lack of support would have been heard loudly, not just by the federal officials but also by the North Texas Tollway Authority, local officials and residents in general.
Read more...
TxDOT tries to back away from non-toll plans on 281, 1604
Written by Terri Hall
Tuesday, 08 May 2012
Though is a HUGE victory to wrestle away 10 miles of toll lanes, carefully notice the word choice here. DFW officials were also promised a non-toll expansion of lanes next to the planned toll lanes on I-35E only to have TxDOT pull the rug out from under them. TxDOT later told them there wasn't enough money to do the non-toll expansion as promised so they'd be building the toll lanes first (the non-toll lanes would come later when, presumably, the funds dropped out of the sky). More background here. San Antonians beware!

Considering the Alamo RMA just got rejected for a federal bailout (known as a TIFIA loan), how do they anticipate securing enough funding to do either 281 or 1604 as a toll road anyway?


Funding identified for Loop 1604, U.S. 281
By Vianna Davila
Updated 12:03 a.m., Saturday, May 5, 2012
Transportation officials have nailed down a plan to pay for expressways on sections of U.S. 281 and Loop 1604 without tolls, but with a couple of twists.
The Loop 1604 portion would be just under seven miles, rather than the 12.5 miles originally planned. And toll lanes will likely one day run alongside the free ones on both highways, but drivers would have a choice of which lanes to use.
That's a marked change from previous toll plans in which the entire expressway would have been tolled.
It's unclear whether the toll lanes would be built at the same time as the free lanes and whether they would be elevated, though that is a possibility, said Leroy Alloway, director of community development for the Alamo Regional Mobility Authority, the county's tolling agency.
The plan, presented Friday to a committee of city, county and transportation officials tasked with solving the funding puzzle, includes cost estimates for the projects, a mixture of funding sources that would be used to pay for them, and a proposal for how nontolled and tolled lanes might co-exist along the corridors.
The San Antonio Bexar County Metropolitan Planning Organization board will discuss the plan May 21 and vote at its meeting in June.
Last Updated ( Tuesday, 08 May 2012 )
Read more...
LaHood backs off federal ban of cell phone use in cars
Written by Terri Hall
Tuesday, 08 May 2012
Link to article here.

US Transportation Secretary Disavows Cell Phone Story
US Transportation Secretary Ray LaHood denies promoting federal cell phone ban legislation.
The Newspaper.com
May 4, 2012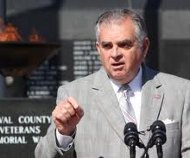 US Transportation Secretary Ray LaHood is distancing himself from reports that he called for a federal law banning all cell phone use behind the wheel. The former Illinois congressman was in San Antonio, Texas speaking at a distracted driving summit. According to a widely cited Reuters report, "LaHood called on Thursday for a federal law to ban talking on a cell phone or texting while driving any type of vehicle on any road in the country." Not so, said a spokesman for the department.

"I can tell you that the Reuters report claiming the secretary announced a new push for a national distracted driving ban is inaccurate," LaHood's press secretary, Justin Nisly, wrote in an email. "The secretary has said for several years now that he is supportive of efforts in Congress to incentivize states to pass anti-texting and driving legislation, similar to the approach taken to prevent drunk driving and promote seat belt use. In the meantime, however, we're focused on our education and awareness efforts, as well as encouraging states to pass laws on their own."

A 2008 survey by the National Highway Transportation Safety Administration concluded driver distraction, not violating the speed limit, was the most common cause of collisions (view report). Likewise, the UK Department for Transport found similar results from its analysis of accidents on the roads of Great Britain (view report).

President Obama's fiscal 2013 budget proposed $8 million in taxpayer funds to continue LaHood's crusade to get states to adopt cell phone ban legislation at the state level. So far, the Governors Highway Safety Association counts ten states that ban drivers from using cell phones without a hands-free headset. Thirty-one states ban novice drivers from picking up a phone. Thirty-seven states specifically prohibit text messaging behind the wheel.

Accident statistics fail to show a benefit to laws authorizing police to issue tickets for cell phone use behind the wheel. Connecticut and New York both have banned the use of cell phones and text messaging. In 2010, the fatal accident rate (adjusted for traffic volume) increased 4.6 and 43.7 percent respectively. By comparison, some of the states without any specific text messaging or cell phone use laws saw decreases in accidents. Arizona's fatality rate dropped 5.4 percent, Florida dropped 4.3 percent, Missouri dropped 8.7 percent, Montana dropped 15 percent and South Carolina decreased 9.3 percent.

At the same time that the US Department of Transportation is pushing laws to ban in-car cell phone use, it is promoting the "511" government program that encourages drivers to dial 511 for information on traffic conditions instead of tuning in to a traffic reports on AM radio.



Last Updated ( Tuesday, 08 May 2012 )
Read more...
Canseco molested by TSA agents AGAIN
Written by Terri Hall
Tuesday, 08 May 2012
Link to article here.


I-TEAM: Congressman Canseco says he was assaulted during TSA pat-down
Posted on April 24, 2012 at 5:30 PM
Updated today at 12:18 PM
U.S. Rep. Francisco Canseco said he was assaulted by a TSA agent at the San Antonio International Airport.
The Texas Congressman said the security agent went too far during a pat-down earlier this month.
"The agent was very aggressive in his pat-down, and he was patting me down where no one is supposed to go," said Canseco. "It got very uncomfortable so I moved his hand away. That stopped everything and brought in supervisors and everyone else."
Canseco told the KENS 5 I-Team the agent said he too was assaulted when Canseco pushed his hand away.

According to TSA, neither man was cited.
A week later when going through the San Antonio International Airport, Canseco was once again selected for a pat-down.
"I did not see it as a coincidence," he said. "I asked them why are you going to pat me down again, so we discussed it further and after discussing it further, they patted me down."
However, before the discussion was over, San Antonio Police Department officers were called to the security check point area.
Read more...
Transportation union lobbies against restraint of toll taxes by feds
Written by Terri Hall
Tuesday, 08 May 2012
Link to article here.

The special interests are out....what amounts to a transportation workers union, AASHTO, lobbied against the taxpayer (surprise, surprise!) by working against the Commuter Protection Act. They claim passing Senator Frank Lautenburg's bill would put financing for controversial, extremely punitive toll projects in doubt. I say, 'Here, here!' Pass it! Pull the plug on all these taxpayer subsidized DOUBLE TAX schemes that will put commuters out of work by putting the cost to get to work out of reach for most Americans. Anytime a group puts the interests of private investors over those of the taxpayer when it comes to financing PUBLIC roads, it completely lacks any credibility.

AASHTO opposes federal power grab on tolls
By Peter Samuel
Toll Roads News
May 1, 2012

In testimony this week on Capitol Hill the states' highway lobby AASHTO (Association of American State Highway and Transportation Officials) argued against Senator Frank Lautenburg's so-called Commuter Protection Act, S2006. Speaking for AASHTO North Carolina DOT head Eugene A Conti said enactment of the bill would add great uncertainty to financing of toll projects and discourage states and local authorities from advancing projects that would have to gain federal clearance for toll rates.

"(T)he loss of tolling agencies' ability to set their own rates would have a deeply unfavorable effect on their credit ratings, increasing the cost of capital and making it harder for such agencies to borrow money through issuances of bonds for much needed capital improvements, maintenance and other essential services."

In addition S2006 would discourage use of toll-financed public-private partnerships (PPPs):

"Instead of granting maximum access and flexibility to a mix of funding and financing tools most appropriate for each state including toll-based PPPs, Congress would create new impediments to private investment through this legislation."

Conti said the states agree that "federal limitations should be removed" that hamper use of tolls for reconstruction within the tolled corridor. At present only three states of 50 are able to use tolls in this way under the very limited "pilot program" outside of bridges and tunnels.
Read more...
<< Start
< Prev
1
2
3
4
5
6
7
8
9
10
Next >
End >>
Results 1 - 16 of 228